In Hawaii, intra-party feud may cost Democrats a seat in Congress
By Philip Rucker
Friday, May 7, 2010; A02

HONOLULU -- Across the country, Democrats are on the defense, laboring to put out political fires sparked by angry voters and emboldened Republicans. Even Hawaii, the bluest of blue states, where a Democratic machine has controlled politics for the five decades since statehood, has become a dangerous hot spot for the party in power.
But here's the catch: The Democrats started this fire themselves.
Democrats here might lose a House seat in a special election this month because of a feud between two candidates that has inflamed tensions within Hawaii's ethnic voting blocs and between the state's Democratic establishment and the party's national leaders.
The result could be a victory by plurality for the GOP candidate. That would upend Hawaii's political order and, like the recent Senate race in Massachusetts, simultaneously hand Republicans a compelling narrative of Democratic defeat -- this time in President Obama's birthplace.
"It's a nightmare for Democrats," said Dan Boylan, a University of Hawaii history professor.
There is no primary to replace Neil Abercrombie, a 10-term congressman who resigned to run for governor. So the race in Hawaii's 1st Congressional District will be decided in a winner-takes-all election on May 22.
For weeks, the two leading Democrats -- state Senate President Colleen Hanabusa and former congressman Ed Case -- were locked in a dead heat with Republican Charles Djou, but a new poll shows Djou pulling ahead in the 14-candidate contest. He led with 36 percent of likely voters in a Honolulu Advertiser poll released last Sunday, followed by Case at 28 percent and Hanabusa at 22 percent.
Neither Democrat has shown signs of bowing out. The national party has not publicly endorsed a candidate but believes Case has a better chance of winning. The White House this week leaked to reporters an internal memorandum by pollster Paul Harstad concluding that the seat is "more likely than not to fall into Republican hands" and that Case is "the only candidate" who can beat Djou.
Hanabusa dismissed the pressure from Washington and told supporters on Wednesday: "I'm in this race until the end -- and I'm in this race to win."
Djou's supporters were just as bullish when they gathered for a fundraiser one recent evening overlooking Waikiki Beach. Djou, a Chinese American City Council member, said a victory in this overwhelmingly Democratic district could add to the GOP's momentum heading into November's midterm elections.
"The American people want to know: Do the people of Hawaii want more of the same, or do they want something different?" Djou said. "The mantra in Washington is 'Spend, spend, spend, and if that doesn't work, spend some more.' Well, enough is enough with the spending."
A different election
Despite some similarities, the Hawaii contest is unlike January's Senate election in Massachusetts, where Scott Brown, a little-known GOP state senator, rode a wave of discontent and "tea party" support to win the late Edward M. Kennedy's seat. Here, the tea party movement is hardly visible, and voter anger seems confined largely to the Republican base, traditionally about 30 percent of the electorate.
Abercrombie dismissed as "Eastern fiction" the suggestion that Hawaii's race is a referendum on the president. "Obama has a 70 percent approval rating out here," he said, "and if he were on the ballot, he'd probably get 80 percent."
In this metropolis, where whites are in the minority, strategists said elections often are decided by ethnic voting blocs, including Chinese Americans, Japanese Americans, Filipino Americans and native Hawaiians.
Hanabusa, 58, is a labor lawyer who was elected to the state Senate in 1998 as an outsider but quickly ingratiated herself with her party's elders, including Sen. Daniel K. Inouye, a Japanese American who has represented Hawaii in Congress since it achieved statehood in 1959.
Hanabusa, who also is Japanese American, has been backed by Inouye; the state's junior senator, Daniel K. Akaka; and unions representing teachers, government employees and the longshoremen. This organizational support could be critical, considering the race will be decided by mail-in ballots sent out this week.
"Turnout will be a tremendous factor," said Randy Perreira, president of the Hawaii AFL-CIO. "It's a big question . . . because it's so out of kilter with the normal election cycle, whether people will be looking for a ballot."
Hanabusa said in an interview that she would help Inouye, chairman of the Senate Appropriations Committee, continue to direct federal resources to the state.
"The federal government is what has equalized the ups and downs in our economic swings," she said. By contrast, she said, Djou is "clearly 'no' on taxes, 'no' on health care, 'no' on stimulus. It's just 'no, no, no.' . . . Because of that, he's not displaying the knowledge that you need to recognize how sensitive Hawaii is and the need for the expenditures."
Yet, although Hanabusa is considered a skillful legislative operator, she has been slow to connect with voters. For instance, it is required practice in the state for candidates to stand on the sides of major roads waving signs. One afternoon last week, dozens of Hanabusa's labor-union supporters waved signs in the rain for nearly two hours until she arrived. Hanabusa waved for about 20 minutes before returning to campaign headquarters.
Case, by contrast, was at the side of a road with his wife, Audrey, and a few supporters before dawn the next morning, waving to commuters for hours.
Case, 57, has an independent streak -- Hawaii's Democratic establishment effectively blacklisted him when he challenged Akaka in a primary four years ago. "We have the largest-running machine in the country, and it's had a good run," Case said of Inouye's operation. "But it's obstructing progress now, not allowing for transition, new people, new ideas."
Case, a cousin of AOL founder Steve Case, has solid name recognition, having represented Hawaii's 2nd Congressional District from 2002 to 2007. He says he's receiving strategic help from the Democratic Congressional Campaign Committee, although the DCCC has not publicly endorsed him. In robocalls he recorded to drive up Democratic turnout, Obama does not mention a candidate but merely asks Hawaiians to vote for "a Democrat."
Dangerous scenario
Inouye, trying to protect Hanabusa's standing, sought and received an agreement from national party officials that they would not endorse Case or call for Hanabusa to quit. But that has not kept them from highlighting a scenario they consider dangerous.
"This race should be a layup for Democrats, but the home-state senators are allowing local politics to trump national Democratic interests," said a senior party official, who spoke on the condition of anonymity to be candid. "They're underestimating how this will impact us all heading into the midterms."
Hanabusa is spinning claims of Washington favoritism -- as well as the GOP's backing of Djou -- in her favor, aware that Hawaiians tend to resent mainlander influences in local campaigns.
Djou understands this, too, and has kept his rhetorical distance from the national GOP, even as he delivers boilerplate lines about repealing a health-care law he calls "a terrible prescription for the American people."
The DCCC has funneled more than $300,000 to the race, airing ads attacking Djou. But Abercrombie said the spots serve only to rev up the GOP base. "It's free advertising for Djou," he said.
Yet with Case and Hanabusa continuing to split the vote, DCCC Chairman Chris Van Hollen (Md.) signaled to reporters Thursday that the national party may abandon its efforts in Hawaii.
At the Djou fundraiser, attendees were hopeful that Djou will become the third Republican ever to represent Hawaii in Congress.
"It's almost divine intervention," said Anita Bruhl, a real estate agent who moved to the state from Boston in the 1970s. "The same unusual election here is very similar to the one in Massachusetts, no? . . .
"The first one rippled through the world. Wouldn't it be something if this one rippled through the world, too?"
Staff writer Chris Cillizza in Washington contributed to this report.
Hawaii's Three-Way Race Will Remain Just That
It's not easy to win a House race when you're a Democrat running, not just against a Republican, but a fellow Democrat as well. That's exactly what Democrats are finding out in Hawaii, where two of their own, former Rep. Ed Case and state Senate President Colleen Hanabusa, figure to split the Democratic vote in a three-way May 22 special election with Republican Hawaii City Council member Charles Djou.
The party establishment in Washington has sided with Case, and things have gotten pretty ugly. The Case campaign circulated a Democratic National Committee poll showing Case in the lead, and, in an e-mail to supporters, the campaign offered up this quote:
"It is clear from this data -- as from all the public polling - that Ed Case is the best chance that our party has of holding on to that seat," said a senior White House official.
Well, Hanabusa is evidently unfazed: she's not getting out of the race anytime soon. She held a press conference yesterday and said she's in the race "'til the end," Tim Sahd reports at Hotline OnCall.
So Hawaii's race will remain a three-way contest, and it's likely, as recent polling indicates, that the Republican Djou will win. Which won't be the end of the world for Democrats, since they will probably re-take this mostly Democratic district in November, when the winner of this special election will have to defend his or her seat. But it's the district where President Obama was born and raised, and right now it looks probably that it will be under GOP control for at least a few months.


Posted: May 6th, 2010 09:46 AM ET
From
CNN Deputy Political Director Paul Steinhauser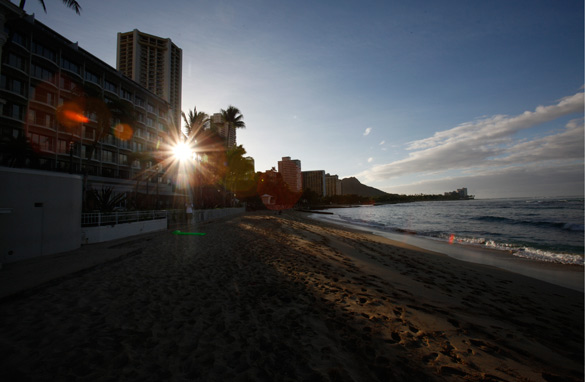 Polling in a three-way Hawaii special election indicates that the two Democrats in the race are splitting their party's vote to the benefit of the Republican candidate. (Photo Credit: Getty Images/File)
(CNN) – Borrowing a phrase from one-time presidential hopeful Hillary Clinton, Hawaii Democratic congressional candidate Colleen Hanabusa says she's "in this race to win it."
Hawaii's state Senate president say she's not dropping out of a contest for former Rep. Neil Abercrombie's seat in Hawaii's 1st congressional district, telling reporters Wednesday that "I'm in the race until the end."
Along with former Rep. Ed Case, Hanabusa is one of two Democrats in the May 22 special election. In a contest for what should be a safe seat for Democrats, recent polls indicate the two Dems are splitting the vote, with the Republican candidate, Honolulu city councilman Charles Djou, in first place in the surveys. The special election is a winner takes all contest, with only a plurality needed for victory.
Hanabusa is in third place, according to the polls. But she disputes the surveys' findings and says they are wrong, according to local reports.

While national Democratic Party organizations may favor Case, they have not formally endorsed either of their party's candidates. Meanwhile, the state's two Democratic Senators, Daniel Akaka and Daniel Inouye, are pushing for Hanabusa. The Democratic Congressional Campaign Committee is running ads that criticize Djou and is also pushing efforts to get out the Democratic vote.
Abercrombie, who stepped down earlier this year to run for governor, won more than three-quarters of the vote in his 2008 re-election, and then-Sen. Barack Obama, who spent much of his childhood in Hawaii, took 70 percent of the vote in the district in the 2008. But, four years earlier, Sen. John Kerry, D-Massachusetts, won the district by only six points. The district covers Honolulu and some surrounding suburbs.
Voting in the contest is underway, and ballots in the all-mail special election need to be returned to the state Office of Elections by May 22.
And, as for the Clinton comparison: In early 2007, when then-Sen. Hillary Clinton, D-New York, announced her bid for the White House, she said "I'm running for president and I'm in it to win it."
Franklin

May 6th, 2010 11:14 am ET




The first candidate to promise they will get the schools open year round and get the school buses picking up all children again should be the easy winners. That is something that the media doesn't talk about when they help the POTUS claim that he is from Hawaii; the fact that he is doing nothing about the state being so broke that they can't afford to transport children to the schools that only stay open 3 1/2 days a week.



Anonymous

May 6th, 2010 11:02 am ET




Maybe she should run as an independent



POTUS OBAMA

May 6th, 2010 10:46 am ET




DemS are known for destroying themselves. A supposed safe seat and they're giving it away.



The Republican Dictionary

May 6th, 2010 10:39 am ET




Democrats are ALWAYS in-fighting. This is why they are missing an opportunity to GOVERN the United States for 20 to 40 years after the debacle that was George Bush.

Somebody (Rahme) needs to put one in the political head of this woman.

Republicans love Reagan ... Democrats need to steal a page from his playbook ... thou shall not criticize another member of the party.



Willy Brown

May 6th, 2010 10:30 am ET




To pick a democrat all you need to know is which one lies the best.



Beef King

May 6th, 2010 10:30 am ET




Hawaiians know Colleen Hanabusa to be dishonest and corrupt.
Too bad for the voters because Ed Case is known to be honest and not corrupt.
Mr. Djou is lucky indeed, because Mr. Case would be the clear winner if Hanabusa was gone.
She is power mad.



Fair is Fair

May 6th, 2010 9:52 am ET




You mean she just won't roll over for a democrat? Must be a racist.